2018 Las Vegas World Chinese Invitational Badminton Tournament (Junior Division)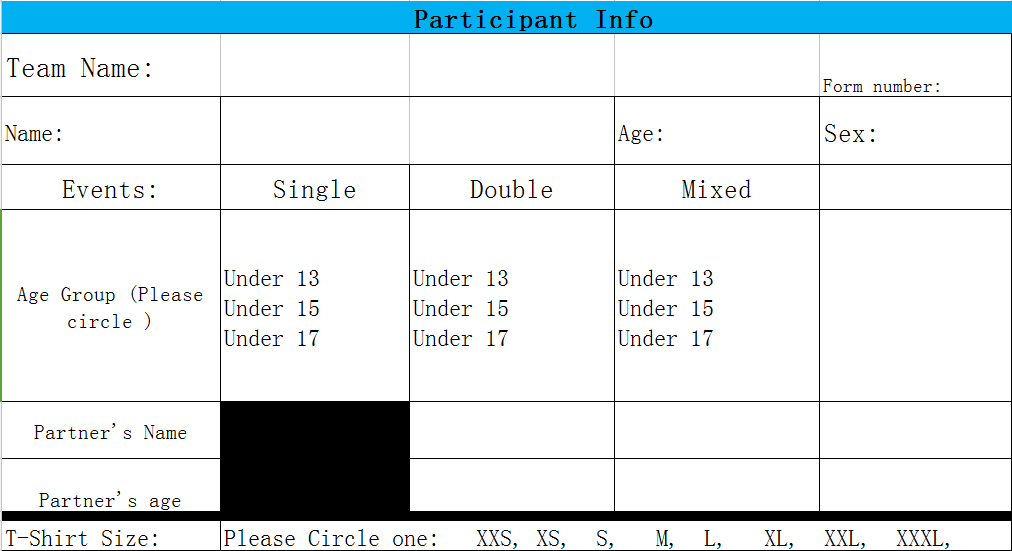 T-Shirt Size:
Please Circle one: XXS, XS, S, M, L, XL, XXL, XXXL,
Age Groups:
Open events have no age restrictions
Other Events: 35+ Year old. Each Age groups are 5 years apart. Each participant is limited to 2 events.
Remarks:
1. All participants are limited to two events. Two events must be of different discipline. (For example: one may only enter one single event, the second event must be a double or mix event.
Payment Instructions:
2. Under 13 if born in 2005 or later.
Under 15 if born in 2003 or later.
Under 17 if born in 2001 or later.
3. You may enter into age groups older than your current age, but not younger. (For example, under 15 years old may enter into under 17 age group.


Payment Instructions:
Please make the check payable to WCBFUSA and mail it to WCBFUSA, 2008 Orange St. Alhambra, CA 91803
For credit card payment please email to Jienh@wcbfusa.com for additional instructions. We accept Visa/Master/American Express.
Send your entry form to:
Please email your completed form to Jienh@wcbfusa.com
2018 Las Vegas World Chinese Invitational Badminton Tournament (Junior Division)